The journal Addiction features a "Conversation with Walter Ling,"
founding director of UCLA ISAP.

Interested in participating in an ISAP research study?




Screening, Brief Intervention, and
Referral to Treatment (SBIRT)
Training Opportunities in California
2015 International Conference on Global Health

April 22 - 24, 2015 • Hangzhou, China

The UCLA Center for Advancing Longitudinal Drug Abuse Research (CALDAR), in collaboration with the Asian & Pacific Islander Addiction Science Network, is pleased to announce the second meeting of Conference Series to Promote Global Health, sponsored by the National Institute on Drug Abuse.

Conference Theme: "Prevention and treatment of substance abuse and HIV, focusing on Asian countries and Pacific Islands."
---
UCLA ISAP Training Program in Addiction Health Services:

Now Accepting Applications

(For postdoctoral PhD and MD fellows)

Click flyer for more information.
---
Featured in the July ISAP News, a free community newsletter.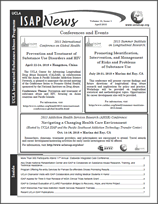 ISAP to Host Screening, Brief Intervention, and Referral to Treatment (SBIRT) Trainings in Six California Counties
First National Survey of Substance Use in Iraq, Which Began in February, Is Now on Hold
Evidence-Based Practices Are Not Always Effective: The Case of Vouchers with Parolees
ISAP Tests Use of Smartphones to Improve Treatment Outcomes for Opioid Users
An Evaluation of the Use of Extended-Release Naltrexone with Drug Court Participants
Study Updates from the Pacific Region Node of the NIDA Clinical Trials Network (CTN)
Recent UCLA ISAP Publications
2015 International Conference on
Global Health: Prevention and
and Treatment of Substance Use
Disorders and HIV
April 22-24, 2015
Hangzhou, China