Interested in participating in an ISAP research study?




California Addiction
Training and Education
Series (CATES)


PowerPoints are available for
the 2013 Spring Conference
and CATES Coaching Webinar
Featured in the January ISAP News, a free community newsletter.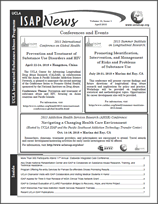 Treating, Rather Than Incarcerating, Nonviolent Drug Offenders Saves Money (with corrected wording in Page 1 figure as of Feb. 10, 2014)
Update on the Pacific Region Node of the NIDA Clinical Trials Network
More than 750 Attend 10th Statewide Integrated Care Conference
ISAP Evaluates Access to Substance Abuse Services for High Risk Parents and Caregivers
Long-term Residential Treatment Versus Intensive Outpatient Prison-based
Treatment
ISAP Provides Telepsychiatry Services Through the Antelope Valley Rehabilitation
Center
Recent UCLA ISAP Publications
2013 Tenth Annual
California Opioid Maintenance
Providers Training (COMP)
2013 Tenth Annual
Statewide Conference

"Integrating Substance Use,
Mental Health, and
Primary Care Services"